One of the biggest shifts in my productivity was finding a way to sort out what is important, not merely what is urgent. The funny thing is that once I started to get a handle on identifying the important items, I was able to spend more time on being pro-active, preventative projects, and the like (and not feel guilty about it either). This created a feedback loop which further reduces the urgent items that come up on any given day. I can't completely eliminate urgent items, but I can do a far better job at reducing how often they occur in my work and life.
So how do you do this? And what exactly do I mean by Important versus Urgent?
You start by putting your tasks into four quadrants:
Important & Urgent (emergencies, pressing problems, deadline-driven projects, scheduled activities)
Important & Not Urgent (preparation, planning, clarifying goals and priorities, true relaxation/recreation)
Urgent & Not Important (interruptions including many types of calls & emails, things that easily distract and fool us into being busy but don't get us closer to our priorities)
Not Urgent & Not Important (trivia, time wasters, escape activities, junk mail)
I find that most individuals, including highly dedicated professionals, spend a considerable amount of time in #1 and #3. Folks that really fool around spend a considerable portion of their time in #4.
The goal, presuming you want to productively work towards your priorities and shift as much of your work away from fire-fighting as possible (and towards value creation), is to spend as much time as possible in #2. Ideally, any other activities that don't justify being in #2 should at least fall into #1 (both of these quadrants represent important work).
Here are some images (including a nifty mind map) to visualize this:
Click on the below image to download the mind map image (pay particular attention to the comment bubbles in yellow and connecting them):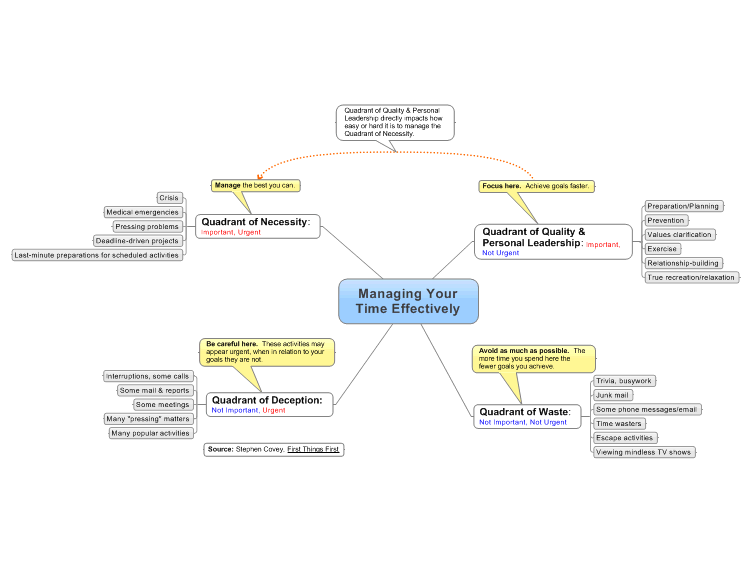 And here is a PDF to a blank matrix to help you brainstorm this for yourself:
These concepts and framework is all drawn from Steven Covey's two books:
If you found this post interesting, in addition to checking out both of these books, you may also find Randy Pausch's Time Management presentation insightful:
[first 7:30 minutes or so of video are folks introducing him if you feel like skipping over those]

So what do you think: Are these concepts something you can utilize in your work and life?